Mr Bruce Morrison
Funeral Service: Tue 14th Sep 2021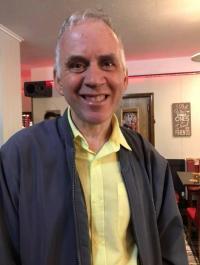 Morrison
(Inverurie)
Very suddenly at home on Monday, September 6, 2021, Bruce James, cherished son of Jim and Elaine, loving brother of Nikki and brother-in-law of Mark, loving uncle to Abi and Chantelle and her fiancé Alan, loved great uncle to Dylan and Aisha, a beloved nephew to Auntie Francie and a friend to many.
A celebration of his life will be held in St Andrew's Parish Church on Tuesday, September 14 at 11.00am, thereafter to Inverurie Old Cemetery, to which all friends are respectfully invited. Family flowers only please, donations if desired can be made at the church door in aid of Inverurie Day Centre. Please dress casual and in bright colours

Bruce will leave on his final journey from Eric P Massie's Rest Rooms on Tuesday, September 14 at 9.40am, along High Street and onto St James's Place heading up to St James's Court, returning back down St James's Place onto High Street, West High Street, Past The Drouthy Laird, up Blackhall Road, right onto Burghmuir Drive, turning right down Harlaw Road, past Inverurie Loco's, right onto Mortimers Lane, left onto North Street, back down West high Street, left onto Constitution Street, turning right onto Burn Lane, round past the station, back onto Market Place arriving at St Andrews Parish Church.

Morrison
(Inverurie)
Elaine, Jim and family would like to express their sincere thanks for the many kind expressions of sympathy received by way of cards, flowers, telephone calls and home bakes, in their recent sad loss of Bruce. Special thanks to the paramedics for their efforts, to Rev. Carle Irvine for his comforting service, to The Loco's F.C. for their tribute and refreshments, to Ian Thomson and team at Eric P Massie Funeral Directors for their efficient funeral arrangements, to The Drouthy Laird for their welcoming refreshments, to all those who came to say goodbye at St Andrew's Parish Church and for the generous donations received in aid of Inverurie Day Centre.
Loved and missed so much.
Funeral Service
Location
St Andrew's Parish Church
High Street
Inverurie
AB51 3QJ
Date & Time
11:00am Tue 14th Sep 2021
Burial Service
Location
Inverurie Old Cemetery
Date & Time
11:45am Tue 14th Sep 2021
Leave a message of condolence
Condolences
No condolences have been left here yet.
What should I wear?
We normally associate wearing black with going to a funeral. But it is increasingly typical for families to express a preferred dress code. Our advice is to look out for information from the family in a notice published either in newspapers, online or in the funeral director window to advise you of their preference.
How long does a service last?
Typically a service in most churches or crematoria lasts around 20-30 minutes. A formal mass may take a little longer and we would expect this to be nearer an hour. Finally, burials can vary in length as they are weather dependent.
Where should I sit?
Family and close friends typically reserve the first couple of rows in a service. We recommend sitting nearer the front than the back of a service space in order to support the family and enabling late arrivals to discreetly fill back rows.
Where should I send flowers?
Often a family will express a preference for flowers - or charity donations in lieu of flowers. We recommend you keep an eye on notices posted in newspapers, or online or in the funeral director window so you are able to follow their wishes.